Celebration at Fontys: ICT celebrates its 50th anniversary
Exactly five decades ago, on 17 May 1972, Fontys launched the first ICT training course in Eindhoven. Reason enough for a party. And the party is a grand one.
From early in the morning until late in the evening, all sorts of activities will be organised at various locations on the Fontys grounds in Eindhoven on Tuesday. Outside, but also inside, students, alumni, teachers and former employees will meet each other. They chat about ICT, the changes the study programme has gone through in recent years, about everything that is on offer this day and about small talk. "How is your pension?", a teacher asks a former Fontys employee.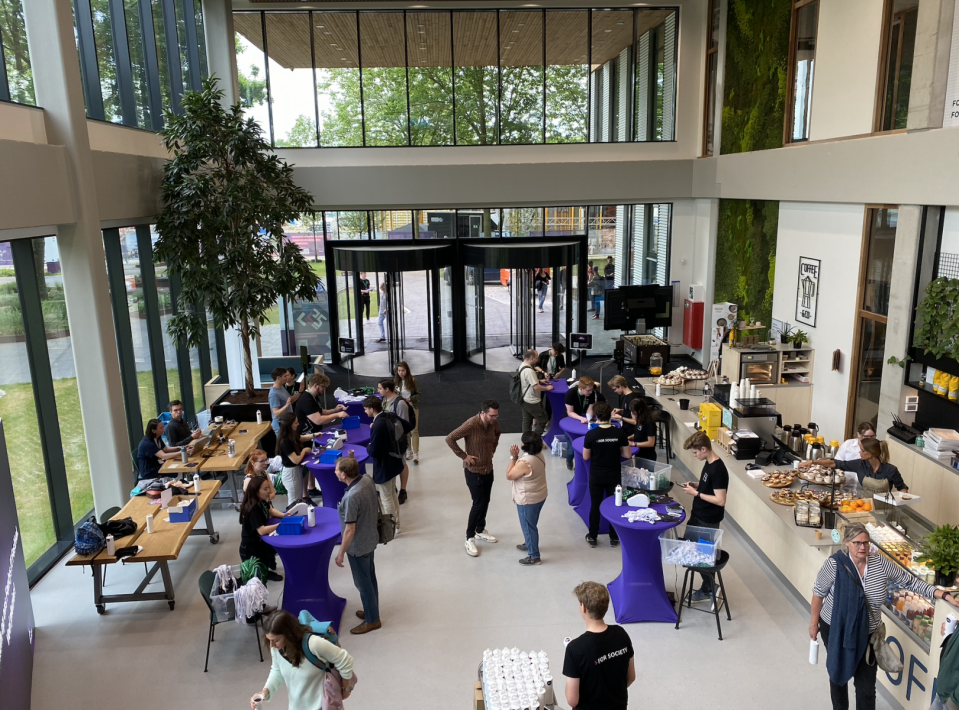 Cocktails
Outside, tents are set up in front of the main stage. There is a chill area, food trucks and drinks are served at the bar. In the morning, coffee and tea, but later in the day, the beer tap will open and enthusiasts can get cocktails. Throughout the day, various speakers will take the stage. First on the programme: Koert van Mensvoort. He calls himself a philosopher, director, artist and scientist. "But above all an amateur", he says during his talk.
Van Mensvoort designs all kinds of speculative products that fuel the discussion about the impact of technology on our everyday lives. An example: a wine that you can give a taste of your choice by means of nano-capsules and a microwave oven. Or how about a belt that allows you to charge your phone to your own belly fat?
Power of inclusiveness
Later in the day, it is the turn of former marketing, park and creative director of Efteling Olaf Vugts, author Remco Claassen, Head of Tech at Coolblue Willem Koopmans and cabaret artist Jörgen Raymann. The latter speaks to his audience about the power of diversity and inclusiveness. "Diversity means that everyone can participate," says Raymann. "If you let everyone participate, you broaden your horizon. But why do we have to talk about inclusiveness every time?"
According to the cabaret artist, this has everything to do with making assumptions. "Everyone is guilty of it and you can only do something about it when you are aware of it," he says. "Immerse yourself in people, look at people, listen to people. You will find that diversity takes away stress. That it makes it easier to trust others, that you get a broader view with more allies and that it makes for a happier workplace."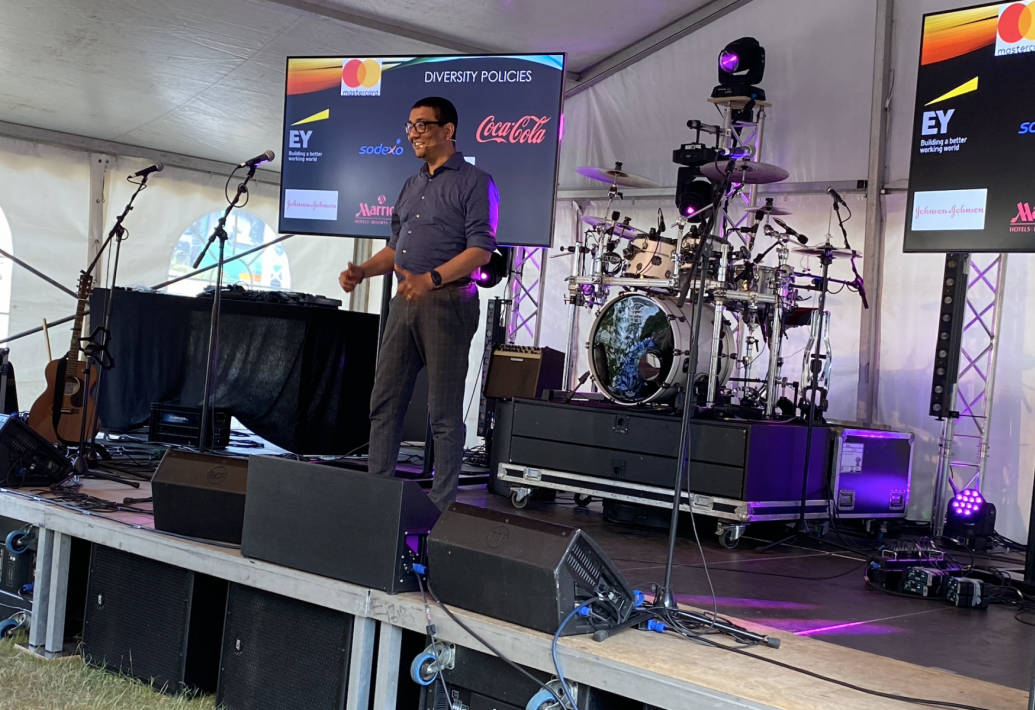 Sandra Verhoeven, lecturer at ICT Fontys and organiser of this day, says that the speakers were chosen for a reason. "We want to show how diverse the field is. The guests come from all sorts of different fields. From technophilosophers to media designers and techies. There is something for everyone."
Some 1,300 people have registered in advance for the IT festival, of which about one-third are alumni. The majority of those present are (former) employees. There are fewer students, but they do show their faces now and again. Marijn for instance, a Software student. He is here together with his father. 
"We go to events like this more often. We both find it very interesting," says Marijn. "We have already visited several things today. Cyber security, technology as next nature, future of digital creativity and a workshop on radical app development. Later we will go to a meeting about Web3, NFTs and Metaverse. We're not going to the party tonight. Unfortunately, I have to work."
More photo's en video's
View many more photos and the full programme at www.fhict50jaar.nl. 
Auteur: Karen Luiken
Bron: bron.fontys.nl