Red Team vs Blue Team
Last Friday, a number of Cyber Security students along with lecturer Ron Mélotte helped out with the 'Great HackShield Event'.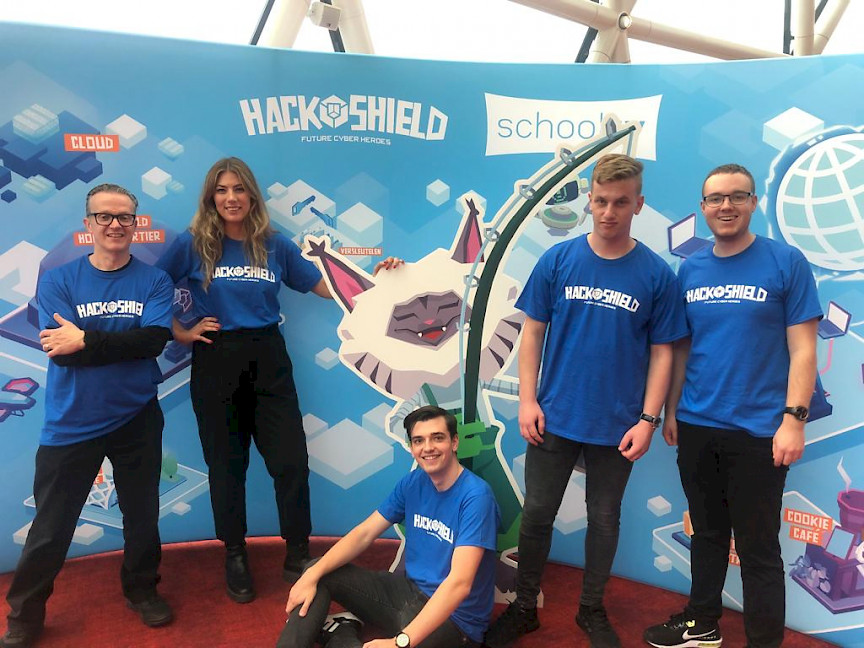 HackShield? You may be asking yourself. HackShield is a game in which Cyber Agents (children 8-12 years old) learn how to protect themselves and their loved ones from dangers in the online world. Every year, HackShield organises an event where classes of grade 7/8 are invited to meet characters from the game on the day. Scholars can take photos with HackShield partners such as the police. Led by Northwave, they can solve puzzles in all sorts of ways and, not unimportantly for the pupils; have their picture taken with Janouk, presenter of Klokhuis. 

During the assignments during the event, the pupils can collect shield stickers in different colours. They can stick these in their Cyber Agent Passport. If, at the end of the day, they have collected all the colours of stickers in their passports, they can call themselves real Cyber Agents. 

The final part of the programme is the big Cyber Security Quiz. The students will then be divided into 'Team Red' and 'Team Blue', competing against each other. Who will win? The attackers or the defenders? HackShield the game is of course focused on teaching schoolchildren how to defend themselves against online dangers. But if you do not know how a hacker thinks and operates, it is also difficult to protect yourself and your loved ones in the right way. So it is very clever that they have formed a Red Team in addition to the Blue Team so that the students get both sides of the story and are therefore even more resilient against online dangers.

At the end of the event, the children returned to the buses, with a Goodie Bag in hand, tired but satisfied. One of the students commented that he thought this was the most fun school trip ever. For HackShield, this is the greatest thing they can hear. You want schoolchildren to acquire important knowledge, but in the process also experience a lot of fun. 

The HackShield event concluded with drinks for staff, partners and volunteers of the event. With snacks and drinks, they celebrated that everything went smoothly. And the Cyber Securty students and Ron Mélotte were also able to return home, tired but satisfied. 

Want to know more about the Hackshield event and what interesting ones they have set up for students? Then take a look at the website.