ICT students compete for a place in the final during semi-final ICTalent Awards at Strijp TQ.
Wednesday April 17, 2019 was the semi-final of the ICTalent Awards at the new location of Fontys ICT, Strijp TQ. For the first time in the history of the ICTalent Awards, there was a semi-final in order to make an even better selection. A total of 11 participants competed with each other, from 1st to 4 years and from various disciplines. These participants had already gone a long way: they had already been selected for one of the preliminary rounds and most groups had completed a Masterclass Pitchen. Confident and full of enthusiasm, they pitched their ideas to an jury hoping to advance to the grand finale on 24 May 2019 in De Effenaar.
From assistant for people with intellectual disabilities to laser play
The ideas were very diverse this year. There was a group that developed a personal assistant for people with a mild intellectual disability called "Ruby". Ruby helps clients remember daily tasks, but also perform tasks. In addition, there was also a group of "Beat the Laser" who developed a game with lasers and played at the GLOW light festival. Each and every one of them beautiful, innovative ideas!
Participants semi-final:​
BiZi (English Stream)
Ruby (location Eindhoven)
Retain Today (location Eindhoven)
FoodFact (location Tilburg)
Sterk Werk (location Eindhoven)
BikeShift (location Eindhoven)
Ability (location Eindhoven)
GlowOn/Beat the Laser (location Eindhoven)
Sparky (location Eindhoven)
ASAP (location Tilburg)
The Trashine (location Tilburg)
Jury panel semi-final
The jury panel consisted of a mix of Partners in Education and employees of Fontys ICT:
Bart Lamot – Director Innovations ICT Group (also a member of the jury at the final, 24 mei Effenaar)
Hanny van Hout – Operational Manager Digitas (also a member of the jury at the final, 24 mei Effenaar)
Tim Deynen – Creative Strategist Greenhouse Group (involved with the Exposure Award 2019)
Jeroen de Kort – Teacher ICT & Software Engineering (jury chairman)
Marlou Heskes – One of the initiators of ICTalent and coordinator Student +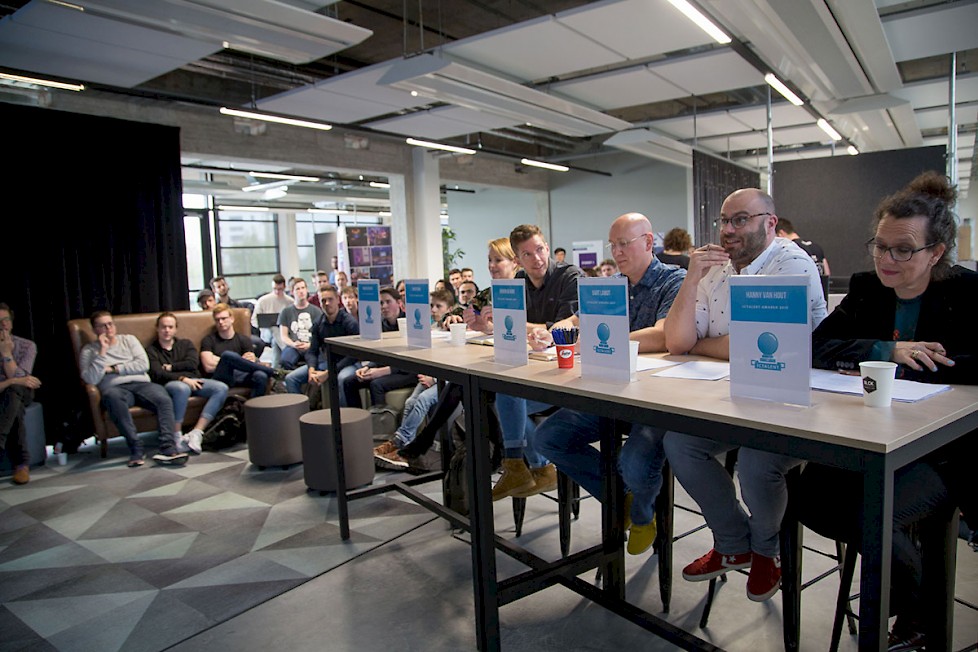 All participants gave a 2-minute pitch. The jury then asked critical questions over a three-minute period. Eventually the jury panel decided to select the following 8 participants for the ICTalent Awards based on various criteria:
BiZi - 2nd year ICT & Software Engineering English Stream
Ruby - 4th year ICT & Media Design/Digital Publishing
Retain Today - 3rd year ICT & Open Innovation
BikeShift - 4th year ICT & Software Engineering en ICT & Open Innovation
Ability - 2nd year ICT & Software Engineering
Beat the Laser - 3rd year ICT & Media Design
Sparky - 3rd year ICT & Media Design
The Trashine -1st year location Tilburg
More information: FontysICTalent.nl.