Digital coffee drinking and teaching from home at the dining table
Friday 13 March 2020 all Fontys teaching locations will be closed due to the stricter guidelines concerning the coronavirus (Covid-19 ). As a result, physical teaching and attending is currently not an option. However, education will continue. Like many other Fontys study programmes, Fontys University of Applied Sciences ICT (FHICT) offers online education. A challenge for the largest Fontys institute with 3056 (international) ICT students and 250 lecturers in both Tilburg and Eindhoven. Experiences so far have been positive. "The key lies in the rapid response and flexibility of both instructors and students," says Koen Suilen, instructor at FHICT. Knowledge, expertise, and existing online tools within the ICT institute have made it possible to switch very quickly. From Monday March 23rd, all students and staff were able to start in the online classroom environment.
From living room to multifunctional classroom 
Many a teacher's living room has been transformed into a multifunctional classroom over the past few days. For example, a laptop with an external monitor stands prominently on many dining tables. Meetings, communication, teaching and the daily coffee machine conversations are held online. All this to be able to offer students online education. This is done with, among others, BigBlueButton and Microsoft Teams. Bjorn Hamels, startemester coordinator FHICT Tilburg, is very pleased with the latter. "It's a very easy system where you can share your screen, but you can also send a lot and control the interaction via the chat or a video call. FHICT facilitates this with extensive manuals. It also shares a lot of tips and evaluates them every day. Big Blue Button, a web conferencing system, is also a widely used tool. "Perfect for giving a webinar for example," says Bjorn enthusiastically. For FHICT, the use of the online tools is not new. They have already been used in the innovative educational environment. Now, of course, extra functionalities are being used and more students are also using them. So knowledge, experience and expertise was already in house, which meant that switching could be done quickly.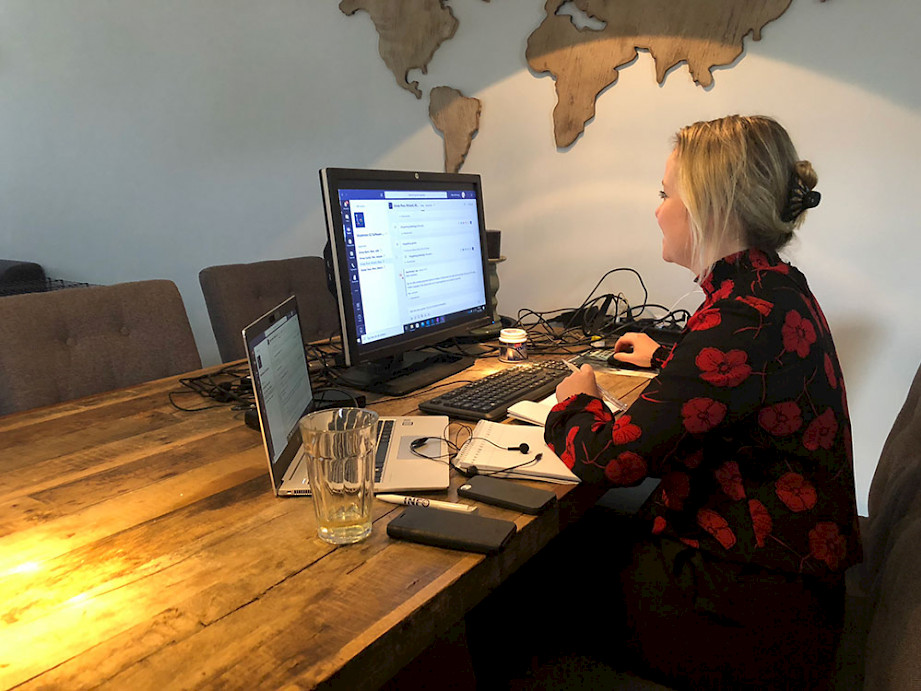 ICT students quickly switch to online learning environment 
"You will notice that our ICT students are able to work very quickly and easily with these online tools. Of course, they work daily with their laptop and pick up things quickly online," says Floor van Hees, coordinator Student+ FHICT Tilburg (see photo). She now coaches her students as well as she can remotely via the app or with a video-call. Teacher Jacques de Roij explains that especially the way of teaching is different. "Although we are currently working in an online learning environment, it is more like traditional education, where the teacher tells the student what he or she should do that day. This is a turnaround for FHICT that focuses on working in an innovative learning environment at the physical teaching locations and is progressive in that respect". When it comes to the use of tools, FHICT's motto is: do what works best for you. For example, one instructor can use one tool intensively and another instructor can use another tool.
Structure and planning
Teachers now often start their day with a joint online appointment with colleagues to discuss what the plan is for that day, whether there are any tips and what, for example, worked or did not work the previous day. But also which student needs extra attention. "An online team is then set up in which various students are assigned and can ask questions via the chat. After that, the students will work independently on an assignment. At the end of the day, there will be feedback with the students," explains Floor. "This is usually followed by a video conference with a number of colleagues and we look at where we can help each other and what we ran into. Have all today's plans worked out well? And then again we make a plan for the next day."
Online interaction and digital coffee drinking 
 "Online interaction is very important," notes teacher Erdinc Sacan. "Although sometimes it's a challenge with three small children and your wife working at home. If your 6-year-old does come into the room to say "hello" to Daddy, it's no big deal at all. In these difficult times, we all need humor." The students have also been positive so far. "Online lessons are fairly new to us, although we have already had an online environment where lessons can be looked back on from home. This allows us to find everything quickly. Taking lessons with video calls is new," says Britt van der Knaap, ICT & Software Engineering student. ICT & Media Design student Lisanne Verbeet thinks it's still fine to do but misses her fellow students. "Normally you can chat or spar with a fellow student. Now you can't and that's a pity." Teacher Koen solves this problem by drinking digital coffee with colleagues. "It's nice to exchange experiences and to feel part of a team." 
Join forces
So at FHICT they join forces. "After all, we have a commitment to students. It can be done, so why not? It is important to adjust expectations and to have confidence in students and colleagues," says Koen. Lisanne also thinks she can keep it up for a while. "Make an appointment with yourself to start and don't stay in bed too long. Take a break in time as well. Go outside or have lunch so that you can get back to work fresh. The scenario chosen by the Cabinet in consultation with the RIVM and medical specialists is to monitor the virus as much as possible. FHICT fully supports this. This means that, in any case, no education will take place physically on location until 6 April 2020. The university hopes that the situation will be under control soon, but in the end health is number one. That is the most important thing for now.  
Author: Maartje van Hees