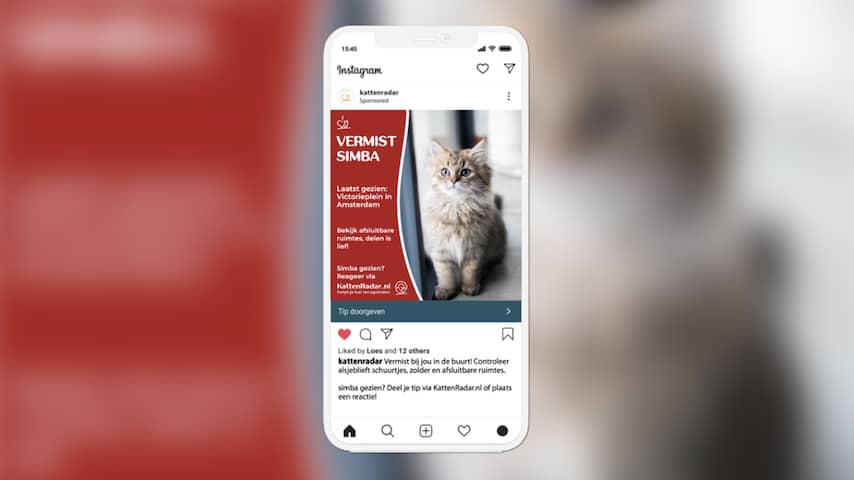 Finding a missing cat with the help of a poster on a lamppost: there must be a smarter way, thought friends David and Tom (Student ICT - Tilburg). In one year, they reunited over a thousand missing cats with their owners. In the Netherlands, and recently (far) beyond.
Tracking cats through online ads: how do you come up with that?
It was David who came up with the idea. "For my job, I learned to buy advertising space on social media. You can choose very specifically in which area an ad is shown, for example in an entire city, a municipality or a particular neighborhood." After a work day, he biked home. He saw a billboard for a missing cat and sympathized with the searchers. He made the connection with his accumulated knowledge and knew that such a search anno 2022 could be more effective.
From his attic room, David did research. He discovered that thousands of cats are reported missing every year, sought contact with owners of missing animals and crafted a simple site. When he told Tom about his idea over a beer, he was immediately excited. David knows a lot about marketing, Tom can program. They joined forces and moved forward together.
World wide
Meanwhile, their service under the name CatRadar also operates in England, New Zealand, Canada and the United States. The first cats across the border have already been brought home. They dream of operating in every country. They also want to expand their services with print-ready posters and cooperate with shelters and the animal ambulance. "We want to bring home as many cats as we can," he said.
Read the entire article on nu.nl (only Dutch)