Highest point new building of Fontys ICT and Fontys ACI on campus Stappegoor in Tilburg
On Thursday 4 April the highest point of the new education and research building at Campus Stappegoor of Fontys in Tilburg was reached. This new building (P8) will become the new accommodation for students and employees of Fontys University of Applied Sciences ICT and Fontys Academy for Creative Industries as of the end of 2019. The building's first project is the large-scale accommodation programme of Fontys in Tilburg. The 4 April was also the kickoff date of the accommodation programme of Fontys Tilburg.
Embedding changes in our education
Social, economic and technological changes are heading towards us a great speed. Due to the changes in this new age, the future working generation requires contemporary skills alongside professional knowledge: TEC skills; where TEC stands for Technology, Entrepreneurship and Creativity. Those who have these skills have an eye for social developments, wish to understand how technology can solve issues, dare to do business and creatively collaborate with other disciplines. It's up to us to strongly embed these skills in the education we teach.
Creating a future-proof learning and working environment
In order to be able to flesh out new requirements of education optimally, the learning and working environments will be adapted considerably. Especially in Tilburg and Eindhoven there will be major investments in the buildings and campuses over the next few years. The main motive behind all these relocation and construction plans is making the physical environment more future-proof.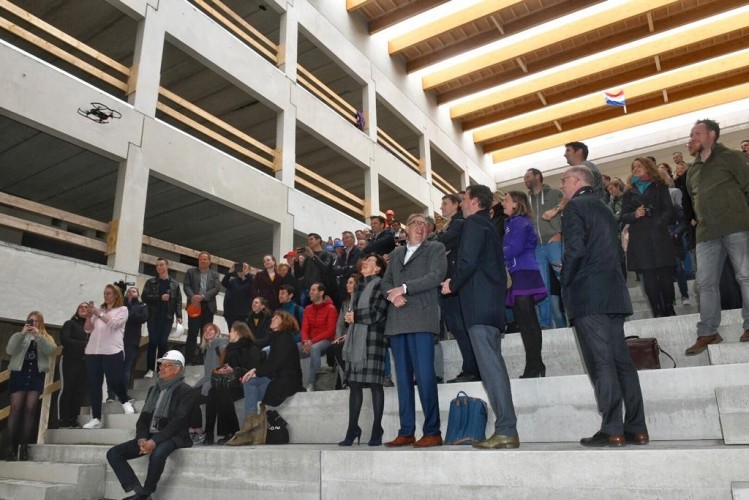 New innovative educational building for students of FHICT and ACI
Fontys University of Applied Sciences ICT and ACI want to offer their educational programme in an inspiring environment. The students will be taught in the new P8 building at Campus Stappegoor as of mid-2020. The building was designed by Paul de Ruiter Architects and will be constructed by Heerkens van Bavel Bouw.
The new innovative accommodation fits in with the mission and vision of Fontys and will be a challenging, stimulating and ground-breaking learning and working environment in which the best is brought out of the students. The building invites the meeting of students, employees, the business world and other interested parties and the creation and sharing of knowledge. In this building the traditional classrooms are making room for transparent Open ICT Labs (OILS). An OIL is an open environment where there is room for large groups of students to work, learn and experiment.
Source: www.fontys.nl