Opening minor Applied Data Science
Op vrijdag 2 september 2016 was de opening van de minor Applied Data Science. Vijf bedrijven presenteerden hun Big Data-uitdaging aan de studenten met de onderwerpen: de bezetting van Intensive Care bedden (EyeOn), het analyseren van foto's van gestolen auto's (8Vance), veiliger brandweerinzet (Respond), gedrag van festivalgangers (Beech IT), en het analyseren van start-up websites (CBS). Ook zullen de studenten betrokken worden bij het Quantified Student onderzoek dat binnen Fontys ICT plaatsvindt.
De wereld van de Data Science is nog sterk in ontwikkeling. Het was daarom niet alleen leerzaam voor de studenten, maar ook voor de bedrijven onderling en de kenniskring Big Data om te zien waar iedereen mee worstelt en welke aanpak gekozen wordt. Dit leidde tot interessante discussies tijdens de aansluitende netwerklunch.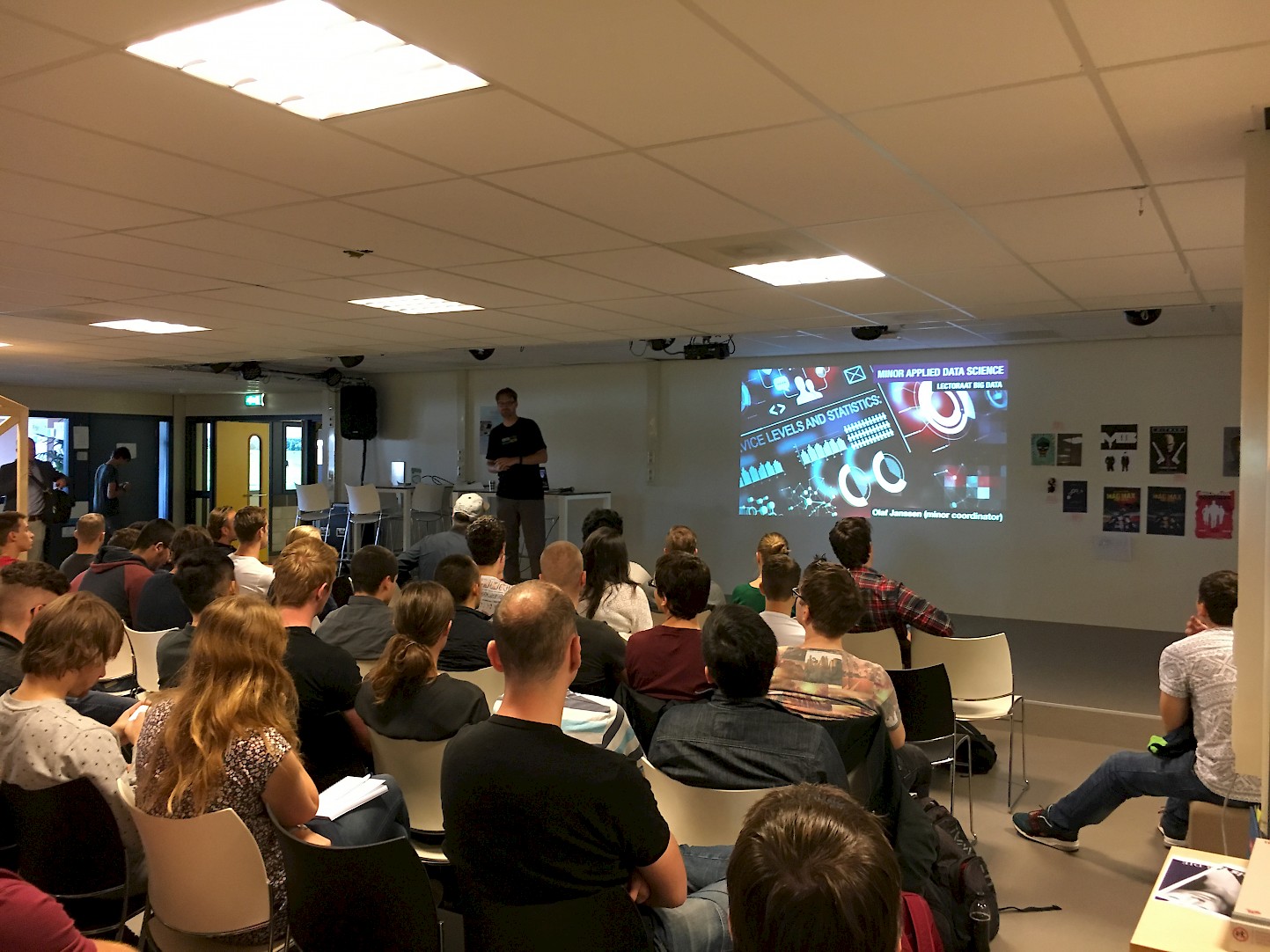 Het programma zag er als volgt uit:
9:00 – Opening and introduction to the minor and professional task (Olaf Janssen)
9:30 – EyeOn / Elisabeth-TweeSteden Ziekenhuis (Michiel Jansen)
9:55 – 8Vance (Paul Keuren)
10:20 – Coffee break
10:40 – Respond / Dutch Fire Departments (Pieter Vermeer)
11:05 – Centraal Bureau voor de Statistiek (Piet Daas)
11:30 – BeechIT (Olaf Janssen on behalf of Bram Verhaegh)
11:40 – Fontys Quantified Student (Olaf Janssen on behalf of Gerard Schouten)
11:50 – Lunch and opportunity to talk to the companies.
Kortom: een zeer leerzame en interessante opening van de minor Applied Data Science!